Wild DFW: Explore the Amazing Nature Around Dallas-Fort Worth
by Amy Martin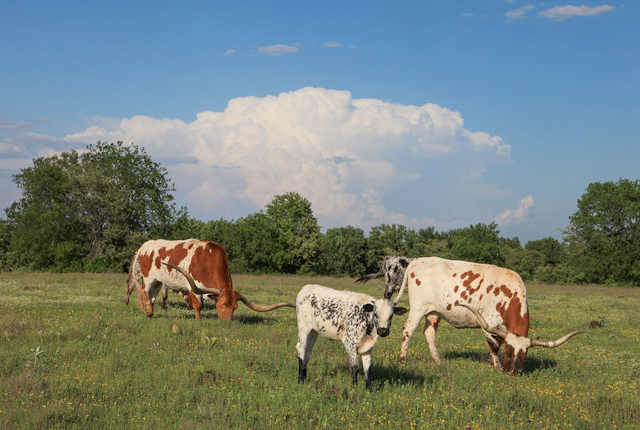 "There's no real nature in North Texas." Oh really? Hardwood bottomland forests. Well-preserved swaths of the "cast iron forest" of Eastern Cross Timbers. Soaring limestone escarpments and quizzical cuestas. Vast wetlands and swamps. Rich riparian corridors along rivers and large creeks. Rare remnants of wildflower-filled Blackland and Fort Worth Prairies. Three immense preserves from 2600 to 3600 acres, plus the 6000-acre Great Trinity Forest. Two large lake-based state parks. A huge national wildlife refuge for water-loving birds. North Central Texas has all this and more.
Travel down the many forks of the Trinity River—Clear, East, Elm, and West—and their reservoirs to discover the watery roadmap that shapes our terrain and is home to a 127-mile-long nationally recognized paddling trail. North Central Texas is an ecotone that transitions the eastern deciduous forest into the western plains. Its astounding ecological diversity arises from many tilted bedrock layers ranging from 75 to 350 million years old, the multitude of soil types which that generates, and the wide-ranging flora those foster. The river ties it all together.
Wild DFW's front section on natural history and ecology also covers:
The wild ways of nature after dark.
Geology forged by an ancient inland sea.
Invasive species that threaten the region's ecology.
How to turn your backyard into a nature sanctuary.
Epic migrations of birds and insects through the area.
Native wildlife and the native flora that sustains them.
The citizen scientists who are surveying nature for further study.
Weather accentuated by tornadoes, ice storms, drought, and floods.
Urban creeks that provide an entry to nature for many, especially children.
Wild DFW includes a field guide detailing over 120 species of interesting animals, insects, and plants, with fascinating facts and tidbits for regaling your friends. These flora and fauna populate the astounding adventures section covering 25 of North Texas's finest nature parks and preserves. Read about the author's hikes through these spaces, led by volunteers and managers who know the land the best and share their inspiring stories. Gain insight into North Texas as never before while enjoying practical tips and complete information for exploring these outdoor treasures.
Media Coverage
The perfect regional field guide, Wild DFW highlights the 25 best wilderness spots to explore in North Texas."—D Magazine
"More than a book about landscape, Wild DFW showcases a community of people devoted to preserving nature." —Natural Awakenings
"North Texas' natural landscape and ecological makeup are being brought to light in Wild DFW." —Lake Highlands Advocate
"Finding and embracing the natural elements in a city like Dallas can be foreboding, but Amy Martin…is aiming to change that."—Dallas Observer
D Magazine: 5 Adventures Into the Dallas Wilderness
Fox4 GoodDay: Good Day crew visits Great Trinity Forest
KERA news: Wild about DFW: North Texas nature guide tells us what to see and why it's here
GreenSourceDFW: Buy 'Wild DFW' on local site to benefit Green Source DFW
GreenSourceDFW: 'Wild DFW' events to kick off starting next month
Lake Highlands Advocate: East Dallas resident to publish DFW adventure and ecology guide
Oak Cliff Advocate: Whose Books hosting 'Wild DFW' author talk about N TX outdoors, Oak Cliff nature
Dallas Observer: 10 Awesome Upcoming Events For Book Lovers
Natural Awakenings: North Texas Nature Up Close
Southlake Style: Southlake Featured In DFW Nature Book
Dallas Express: Dallas resident pushes for more trails
Fort Worth Report: Monkey & Dog Books to host book signing July 19 with author of Wild DFW
Lewisville Leader: Nature author launches book on DFW wildlife, urges tourism
Garland Texan: Amy Martin book features Spring Creek Preserve
Fort Worth Magazine: Experience the Wild Side of Dallas-Fort Worth | #FortWorthReads
Dallas Observer: Wild DFW: Ned Fritz Day Walk at Ned & Genie Fritz Texas Buckeye Trail (Scroll to Oct. 8)
Networking Coverage
Blackland Prairie Texas Master Naturalists: Author praises our Blackland Prairie Chapter Contribution
Trinity Forks Native Plant Society: "Wild DFW and the North Texas Ecotone" in September
TBG Partners: Wild DFW featuring Mikel Wilkins
Cross Timbers Texas Master Naturalists: Amy Martin to speak in September (page 7)
Botanical Research Institute of Texas: October Lunchtime Lecture: Wild DFW
Denton County Master Gardeners: Wild DFW and the North Texas Ecotone
First Unitarian of Dallas: short video review of book talk
Native Prairies Association of Texas: Our Prairie People–Amy Martin
North Texas Trails: Wild DFW Book Review